Hello Everyone,
If you are in or near New York City or simply want to see an exhibition that challenges what is important American contemporary art, then make plans to see '60 Americans.'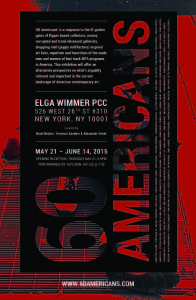 PRESS RELEASE
#########################################################
ELGA WIMMER
526 WEST 26TH STREET (#310) 
NEW YORK CITY, NY 10001 
TEL: (212) 206-0006
CELL: (310) 433-9958
Thursday May 21st  –  Sunday June 14th 2015
Opening Reception:  Thursday May 21st from 6:00 pm to 9:00 pm

'60 Americans' is a response to the ill-gotten gains of flipper based collectors, money corrupted and trend obsessed gallerists, shopping mall (puppy mill/factory) inspired art fairs, nepotism and favoritism of the made men and women of fast track MFA programs in America.  This exhibition will offer an alternative perspective on what's arguably relevant and important in the current landscape of American contemporary art. 
Curated by Noah Becker, Terrence Sanders & Alexander Venet
Artists in Exhibition – Bobby Neel Adams, ShinYoung An, Michael Anderson – Anita Arliss, Jessica Barroso-Gomez, Noah Becker, Johanna Breiding, Shannondoah Buckley, Clayton Campbell, Ori Carino, Joe Castro, Eteri Chkadua- Mike Cockrill, Marcia Cooper, Kenny Cole, Stephen Collier, Gregory De la Haba, Michelle Elmore, Donna Festa, Nicholas Galanin, Tatiana Garmendia, Jenne Glover, Ronald Hall, Randell Henry, Musa Hixson, Heidi Howard, Mike Jacobs, Marcus Jansen, Chris Justice, Stephanie Keith, Nimai Kesten, Bruce Keyes, Lali Khalid, Miru Kim, Maria Kreyn, Adam Krueger, Hayoon Jay Lee, Daniel Maidman, Jamie Martinez, Michael Massenburg, Shiri Mordechay, Rebecca Morgan, AJ Nadel, Alex Podesta, Robert Preston, Rajko Radovanovic, Terrence Sanders, Tom Sanford, Sol Sax, Cheryl Schainfeld, Satomi Shirai, Jamel Shabazz, Aaron Skolnick, Jansson Stegner, Lynn Stein, Dan Tague, Betty Tompkins, Sam Trioli, Jonathan Viner & The Citizen X.  
For further information please contact Terrence Sanders at artvoices@gmail.com or at +1.310.433 9958.  All images are subject to copyright.  Curator approval must be granted prior to reproduction.
'60 Americans'
May 21st – June 14th 2015
Opening Reception: Thursday May 21st 6:00 pm – 9:00 pm
Performance by: Hayoon Jay Lee @ 7:30 pm

Elga Wimmer PCC
Peace and Blessings!!!!!!!