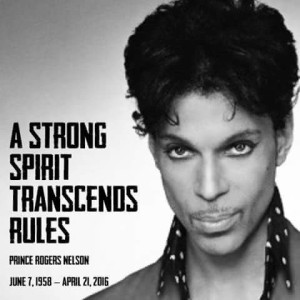 Prince Rogers Nelson = phenomenal musician artist genius
The sudden loss of our Prince left us all in shock, but clearly he had done what he was called to do.  
What an amazing legacy he created for us to treasure. 
Thank you Prince for being you.
---
In This Issue…
Editor's Perspective: Getting Old is the Goal
Bernard W. Brooks:  Art for Sale
---
Editor's Perspective: Getting Old is the Goal
Some people can't walk and chew gum at the same time.  Recently I discovered I am challenged to sit while talking.  I never knew this was an issue until Saint Patrick's Day when I was talking to an associate, I stepped my feet over the bench of a picnic table, but when I sat down, I missed the bench completely.  (The picnic table was a smaller metal version of what you see in a park.)
It was a bizarre moment, realizing that I'm heading backwards to the floor, and it felt like I was falling in slow motion.  Instinctively, I tried to hold on with my legs and I stuck my right arm behind me to brace the fall, but one hand and arm was no match for my weight and I came crashing down.  I did reduce some of the impact by rolling my spine up as I fell, but my right shoulder and hand were strained and my lower back is still tender.  I didn't break anything, but frankly, I'm way too old for this kind of goofy mishap.
Laying on the floor with my feet stuck up in the air, I looked like a tortoise flipped on its shell.   Thank God, no one pulled out their cellphone to video tape me in this ridiculous situation and luckily I had on pants.
I never thought of myself as being clumsy, especially since I've studied dance most of my life, but I've had a few weird accidents.  And then, I recalled when I was a child, my mom calling me a bull in a china closet because I was always moving too fast and knocking over everything in my path.
So folks, if you see me flying by, please remind me to slooooowwwww down because I really want to dance with my grandchildren's children.
Peace and Blessings!!!!!!!

---
Bernard W. Brooks: Art for Sale
Bernard's life revolves around the visual arts and his work is authentic and in demand.  His philosophy for marketing his artwork is simple, "What's the point of storing art under my bed if I can sell it and make room for new stuff."
Building a clientele base is second nature for Bernard and his wife, Gwendolyn Aqui Brooks, an accomplished visual artist, doll and quilt maker.  Friends and colleagues for over 40+ years, they married in 2009, and together they have made finding homes for their artwork their mission.
When Bernard was a teenager he sold his first art work, a collage, to a patient at Alexandria Hospital and from then on he was bitten by the bug to produce art for sale.  Bernard was inspired by his uncle, Linwood Jordan, a professional artist and master jeweler who repeatedly broke down color barriers.  He founded the silk screening department at Carver Vocational High School in Baltimore; and he was the first black instructor to teach at the Maryland Institute College of Art.  Ironically, during segregation the school had denied him enrollment.   During the 1950's-60's, his uncle was the first to sell handmade jewelry in major department stores between New York and Miami, but he wasn't able to reap the full rewards of his craftsmanship, because he had to pay a middle-man to get his jewelry into the stores.  Bernard remembers asking his uncle what price he should sell a piece of his art and his uncle told him as much as the market can stand, because it's one of a kind.
Bernard honed his art skills at the Philadelphia College of Art where he studied under Wing Fong, a major American illustrator and under Dr. Edna Andrade, a professor of design.  While attending the University of Maryland he studied life drawing under Professor Maurice Seigler, and at Howard University he studied watercolor and design under Professor Lois Mailou Jones and printmaking under Professor James Wells.  He earned a Bachelor of Fine Arts at Howard University and served there as the chief medical illustrator for more than 26 years.
Bernard is an important fixture in the art community, enormously talented his artwork is part of the prestigious U.S. State Department, Art in Embassy Program, and his work is in many public and private collections in the United States and internationally.  Committed to sharing his knowledge and guiding the next generation, he has mentored more than 60 students and interns.
Bernard's creative process begins with him sketching his ideas out on paper or canvas because he needs to see where he's going.  He thinks drawing is the most important element for developing a successful painting or collage.  He says Professor Jones used to say you can't have a good painting unless you have a good drawing.  His creations emphasize positioning, colors, and placement.  And, his travels to different parts of the world inspire him.  When he travels he captures the essence of where he's been by taking photos and jotting down the principle colors of what he has seen.
Bernard specializes in watercolors, what he calls a very unforgiving medium because once you've stained the paper there is no room for corrections.  You can't go back and clean it up and you can't paint over what you've done.  He no longer does silk screening, etchings, and lithographs because of the strong chemical fumes.  Now a days, if he has work done in print he farms it out.
Bernard avoids creative blocks by working on three or four pieces at one time, so if a piece is challenging  he may put it aside until later.  He has some pieces he's worked on for two years because he didn't feel like getting back to them.  And when he goes back, sometimes he finishes it in a day and sometimes it's still a long process.  He adds, the main thing is to know when you are finished.
For the past two years he was working in mixed media, but he's gone back to watercolors because financially it is a successful medium.  Bernard explains that a lot of times people get confused when he makes a reference to finance or to selling or marketing artwork, but commercialism is not new to the visual arts and was practiced by Botticelli, Michelangelo, Raphael, Picasso, and many other artists throughout history.
Bernard believes marketing is 30% of the business and a continuous process, he emphasizes, you have to market all of the time.  He developed his marketing skills working as an assistant art director, an assistant advertising manager, a technical illustrator, and in retail sales.  He adds, when marketing it is important to stick with your exhibition's theme.  If you are doing a show on flowers, then that's what you should be featuring.  Marketing is psychological and many people only buy what they were told would be for sale and some are really disappointed if they find other things being exhibited from what was advertised.
Bernard's art collectors date back to the 1960's when he was pursuing a commercial art career.  During that time, he was able to work his way to the top where he was in contact with people who had money and were art collectors.  Other clients from the 60's and 70's were people he met through his attorney.
Today he has a multi-faceted clientele base and many of his clients are now buying his art for their children.  He's continuously seeking new patrons, but he also holds on to the old ones.  He stays in touch with his clients by sending a Christmas present to them for that year.  For instance, the people that bought from him in 2014 got a print that no one else will get because it is exclusively for his purchasing clients for that year.  He explains people may frame his gift, they may put it up with thumb tacks, but the point is they have it and every time they look at it they will think about where they got it.  One thing he learned from the advertising world is to always give people something to remember you by.
Bernard feels the internet is a wonderful tool for selling your art, but if someone goes to the internet to buy a piece of art and can't find it, chances are they aren't going back to that site again.  So in addition to using the internet, Bernard has something to put in a buyer's hand to take home and lay on the coffee table.  Even if they throw it in the trash, they have to pick it up and will see it twice as opposed to once on the internet.
He has a big problem with galleries and dealers because he believes their percentages are too high.  If they didn't do 50% of the painting then why are they charging him 50% to sell it?  He says the first thing a lot of younger artist want to do is grab a dealer or gallery to represent their work, but he doesn't advocate this because he thinks we all have the capacity to represent ourselves.
Bernard says a good way to start doing home shows is by having fifteen people over for a cocktail party, serve light refreshments, and if you sell one piece for more than you have invested it's a successful show.
He likes doing home shows, some with as many as 200 people.  He says the most important thing with a home show is entertaining your guests and stimulating sales. He puts the refreshments out and lets his guests help themselves and that way he can move around and mingle.  He likes the hands on approach rather than having someone else working his show and controlling his money.
Bernard explains that timing your home show is important.  He has the marketing down to a science which is why it works so well for him and Gwendolyn.  He recommends September through December and February as the best times to do home shows.  He explains March through August are not good since most people are focused on preparing and paying taxes, or preparing for graduations, and vacations.  In the summer people don't want to come out because it's too hot and he doesn't do January because it's too cold.
Another big concern Bernard has is that people often don't know the value of an art work.  If someone offers you something at a specific price, you might think it's a good price on the market, but it may not be.  Someone called him recently because they had the opportunity to buy an Elizabeth Catlett print, and Bernard's first question was for how much?  The person wanted five thousand dollars for the print and Bernard thought that was way too much.  His next question was how many prints were in the edition?  There were five hundred prints in the edition which is a lot.
Additionally, it is also important to check the validity of an artwork before purchasing it.  Several years ago,he framed up an Elizabeth Catlett print for a man who had paid a thousand dollars for it.  Bernard said he wouldn't have purchased it for one thousand, but it might have been worth it if it had been valid.  He questioned the validity of the print because it had printer marks on the back of it suggesting it had been run through a printing press versus Catlett having pulled it by hand.  The print had her signature on it, but it could have been forged.  He tested the signature and it was valid, but he was still concerned that the print had gone through a printing press.  He thinks you have to be careful when purchasing prints because there's so much stuff being copied.
Bernard buys art based on an artist track record which is how dealers buy art.  He doesn't randomly buy other nationality's work because American art dealers typically don't know the artist or the value of their work on the international market.
Bernard explains people need to understand that art is a major investment.  When you want to buy or sell art you need to find out what the auction houses are selling?  Two of Bernard's favorite reference sources are Michael Rosenfeld in New York City and the Sloan Auction House in Washington, D.C. because both handle African American art.
He thinks emerging artists will find success if they stay in their studio and produce, focus on building a track record, keep up with what other artists are doing, research what types of artwork are selling, and most importantly, get to know their customers.
Bernard can be reached at 202-506-7095 or at artonwheels@hotmail.com.