In This Issue…
Editor's Perspective: Facebook Connections Expanding Community
Hubert Jackson: Honoring the Spirits of the Journey
Video: Spirits of Fredericksburg in the Making by Multimedia Artist Hubert Jackson
---
Editor's Perspective: Facebook Connections Expanding Community
Social media is changing how we share information and is expanding our sense of community! I find myself networking daily with people from around the country, world, and with a global art community.
I am grateful to meet folks I would never have met without social media. I love information circulating instantaneously…in real time.
Recently, I became friends with Timmy Cuffia, a portrait painter from Baltimore, Maryland. We decided to swap art, here's the portrait he did of me.
I am delighted with his representation!!!!!!!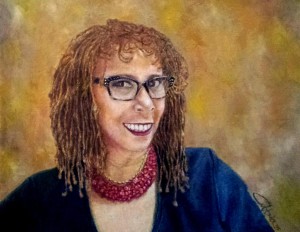 Timmy Cuffia
Portrait of Jenne Glover
oil on canvas     16″ x 20″
Here's what I swapped with him (his choice).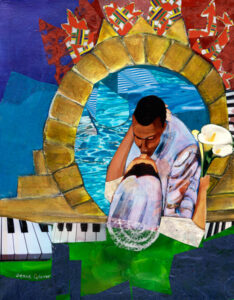 Jenne Glover
Circle of Love     14″ x 11″
mix media collage
Peace and Blessings!!!!!!!

---
Hubert Jackson: Honoring the Spirits of the Journey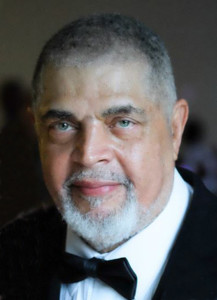 A retired art educator from Washington, D.C. Public Schools, Hubert Jackson is happy to have retired in 1999, because since then his authentic painting style has emerged.  He says he feels he's expressing what has meaning to him.
His exhibition, "Spirits of the Journey," is a phenomenal show inspired by memories of the Civil War, it's rich in history, expression and symbolism. What I especially like is the uniqueness of each artwork in the exhibition, each piece has its own story.
Hubert states in the exhibition catalogue, "My recent work deals with the period of American history from its inception throughout the Civil War and in particular the spirits of those who have come and gone but remain anonymous and unaccounted for through war, slavery, poverty or the passage of time."
In July 2015, the exhibition was at the Tri-Mission Art Gallery, Embassy of the United States of America, Rome, Italy.
Growing up in Culpeper, Virginia, Hubert lived in an area where many major battles of the Civil War were fought. But, it was not until his retirement, as he traveled back and forth from Colonial Beach to Culpeper to Washington, D.C., that he began to explore the battlefields and take an interest in the history of the Civil War. While developing this series, he researched the historical accounts of major battles that took place in Virginia and he was able to collect relics from different battlefields from relic hunters and on Ebay.
Hubert is inspired by the spiritual essence of those bodies left on the battlefields, including his ancestors, that are now a part of the landscape. He says he feels a spiritual connection to those who died. His visual interpretations are capturing moments in history, so that those who fought and lost their lives will not be forgotten.
Hubert's compositions demand your attention because there's so much going on.  He designs his mixed media paintings by overlapping layers of textures and colors, transcending one form to another, creating distinctive vertical planes, as well as, incorporating Civil War relics and vegetation from the battlefields.  He says his works reflect the multiple planes of existence. The columns and light in his pieces symbolize the spirit ascending like Christ.
Hubert has a master's degree in Art Education from Howard University.
Here are a few artworks from the exhibit: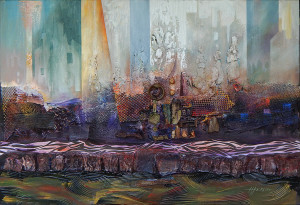 Spirits of Fredericksburg
Acrylic/mixed media, 24" x 36", 2015
The city of Fredericksburg, located on the Rappahannock River was a boundary between  Union forces heading south to try to capture the Confederate capital of Richmond, Virginia and the Confederate soldiers.
In December 1862, the city was assaulted by the Union army, resulting in over 17,000 casualties. Hubert used artifacts and projectiles dug from in and around Fredericksburg to develop this artwork.
Situated by the river, you sense the city's buildings are under attack.  Your eyes are pulled to the center where there is a feeling of firey activity, as well as, a feeling of figures ascending.  Blood is flowing on the battlefield.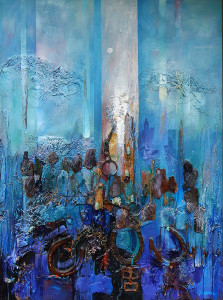 Spirits of Brandy Station, No. 1
Acrylic/mixed media, 42" x 30", 2013
On June 9, 1863, Brandy Station, Virginia, just northeast of Culpeper, had the largest cavalry battle of the war. There were close t0 1,000 casualties.  In designing this painting, Hubert used horseshoes, a mule shoe and bullets that were dropped or fired on this battlefield.
You see abstract horses and men charging forth to battle, the chaos and sacred finality of war.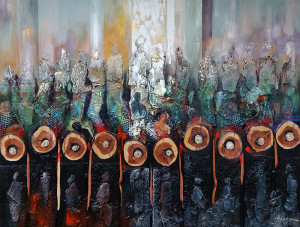 Spirits of Cold Harbor
Acrylic/mixed media, 30" x 30", 2015
On June 3, 1864, more than 18,000 men died in the battle of Cold Harbor, near Richmond, Virginia. Hubert used fired bullets with cedar wood and pine bark to create a sense of the rows of men who died in an absurd frontal assault on entrenched Confederate troops.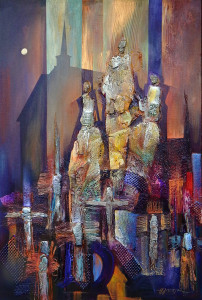 Spirits of Good Hope
Acrylic/mixed media, 36" x 24", 2015
Spirits of Good Hope honors Shiloh Baptist Church at Brandy Station, Virginia, the oldest surviving black church in Culpeper.  Hubert's grandfather, Reverend J. J. Jackson was an early pastor. Spirits of Good Hope also pays homage to the African-American churches that were thriving after the Civil War ended.  You sense the building of a Christian, spiritual structure.
Hubert will have artwork for sale in the "Harvest 2015" group exhibition at The Gallery at Friendship Heights in the Friendship Heights Village Center, 4433 South Park Avenue, Chevy Chase, MD 20815.  The show opens on Sunday, October 11 and continues until October 31.  For more information, call 301-656-2797.
You can also find Hubert's artwork for sale at Gallery Serengeti in Capitol Heights, Maryland and Zenith Gallery in Washington, D.C.
See more of Hubert's art at www.hubertjackson.com;  contact him at hurbertartist@gmail.com.
Let Hubert know you saw him in Voicing Art!!!!!!!
---
Video: Spirits of Fredericksburg in the Making by Multimedia Artist Hubert Jackson

---